Top Trends That Are Getting Hotter In Kids' Clothing
Sunday October 6, 2019,
POSTED BY cm_admin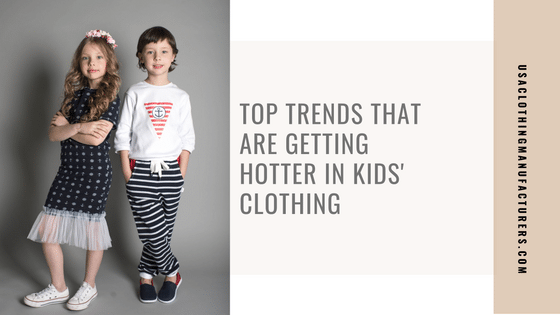 The kids are fashion gurus, too and we bet that you will not beg to differ in this sphere! Gone are the days when it was only the fashion choices of the parents that reigned supreme. Dolling up your princesses and making your little champs look naughtier is the key. The punk, the style, the fashion fabulousness when the awwwww-so-cute compliments rain doesn't come easy in today's world. The doting parents and the kids have become very selective too and if you are one of the business owners dealing in kids' clothing, then you must get in touch with one of the best children clothes wholesalers.
The children's clothing manufacturers offering kids clothing wholesale are updated with the latest trends in the fashion scene and have the best quality trends clothes in their catalog that business owners can choose from and order in bulk. Read on to know about the latest trends that are doing the rounds.
The Prints Are Playing Big
The prints decking up kids' clothing are big this season and from animal to floral prints, the kids' clothes are having the print-affair moments, unapologetically. If you have thought that animal prints were only for the sassy divas, think twice because short dresses, tank tops, halter neck tips for the little angels in animal prints is rocking the fashions scene. The floral prints are huge this season and from mini flowers to big blooms and floral motifs entangled with leafy structure are just going strong. Nature-inspired kids clothes capped with the boho vibe is trendy for the boys. The clothes for the little boys are not without these stylish prints- so let's up the fashion game!
The Retro-Style Kids' Clothing
When we hammer on the word 'retro-fashion' then ruffles, buckles, embellishments in the form of colorful ribbons, beads, pearl-work, lace and much more just dominate the kids' clothing scene never to subside anywhere soon! The retro-inspired fashion clothes are a must for your store – so stock up now!
The Metallic Accents
If you feel that metallic accents are only best chosen for shoes and accessories when it comes to the little champs, think twice, because the glitzy affair is now in the leggings, tops and dresses of the little ones.
Denim Is Everywhere
Denim is the top choice of the doting parents and the kids look super cute with these timeless fashion pieces. It is not the pants and the jackets that are ruling high when it comes to denim, the huge popularity of denims has been transferred to shoes, dresses, earrings and much more!
So if you are a retailer/business owner/private label business owner, please get in touch with a top-rated USA clothing manufacturer offering kids' clothes so that you can have the best supplies to impress your set of customers.