The Leggings Fabric Guide For The Beginner Fitness Enthusiasts
Tuesday November 24, 2020,
POSTED BY cm_admin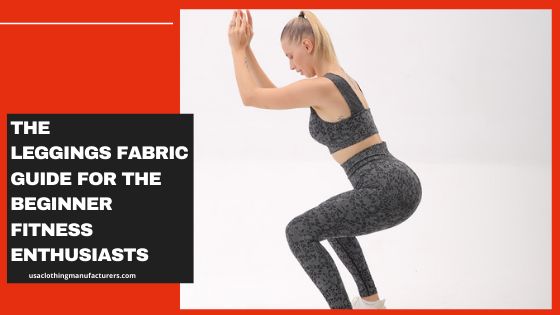 Leggings for women are now a fashion staple piece in any modern wardrobe. They're no longer restrained to just gym clothing. There are yoga pants and even leggings specifically designed to be worn to work. Leggings can be trendy, comfortable, flattering, and arguably the most versatile pieces of clothing if you choose the right ones. Hence, owing to the same, one of the women's clothing manufacturers USA, have curated a selection of functional leggings that business customers can invest on. These are perfect for upgrading your collection with. Meanwhile, let's read on to know more about the ideal leggings fabric.
Cotton Leggings
The great thing about cotton leggings is that cotton is very soft. It's also a very breathable fabric strong, and generally very comfortable to wear. The drawbacks to cotton are; these doesn't hold up well to stretching. Although it's strong, over time it can lose shape. By adding stretch fibers into the cotton like spandex, cotton can hold its stretch better over time, making it suitable for the gym, and way more comfortable for daily wear. The second problem with cotton leggings is that if you tend to sweat a lot, cotton leggings usually don't breathe well. This is because cotton is hydrophilic.
Polyester Leggings
Polyester is a hydrophobic fabric that makes it water resistant and sweat-wicking, making it a very popular choice for activewear leggings fabric. However, it has a tendency to harbor smells pretty easily – so we'd recommend investing in a pair of leggings that's a polyester blend, or that have an antimicrobial treatment.
Wool Leggings
If you're living somewhere that's perpetually cold, wool leggings would be absolutely ideal for you. They keep pockets of air trapped, holding in warmth. Great for pairing with oversized sweaters and jackets, these makes for great layer wear. However, wool leggings are not perfect for workout as it will weigh you down.
Spandex Leggings
You'll find almost every pair of activewear leggings with at least a percentage of spandex. That's because spandex is known for being stretchy, hugging the body to give a great flattering fit. However, look for leggings with the perfect spandex blend, otherwise it would feel sticky and not very breathable.
Bulk order wholesale gym clothes, from one of the renowned clothing supplier in USA. You can find a plethora of styles at the wholesale section that will be perfect for your bulk needs. Therefore, communicate your business requirements to the help team for the investment.