A Look At What Men Should Wear To A Christmas Party
Sunday December 26, 2021,
POSTED BY cm_admin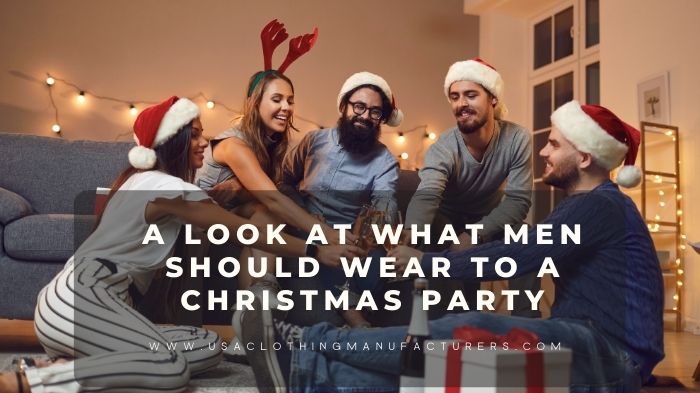 Of course, how you dress for a Christmas party is determined by the sort of gathering. If one is provided, follow the dress code — a black-tie event necessitates a tuxedo, whereas a t-shirt and jeans event necessitates a t-shirt and jeans. Following that, it is critical to dress correctly for the season and time of day or night. Lighter clothing is appropriate for summer daytime events and Christmas parties, while darker attire is appropriate for winter Christmas festivities and nighttime. Finally, a nice item, such as a snappy hat, a chain or ring, a scarf or silk pocket square, or your best sunglasses, might add a joyful touch.
What Should You Wear To A Christmas Party?
Add some stylish accessories to your mens wholesale clothing, such as a tie, pocket square, belt, purse, or sunglasses.
Darker colors are ideal for formal occasions; lighter colors are best for daytime events or in warmer climes.
If you're headed to a casual function, ditch the button-down in favor of a T-shirt.
When in doubt, a well-tailored suit is a safe bet.
Outfits For Summer Christmas
Dressing the part is vital for individuals who celebrate the holiday season during the summer. Breathable, light fabrics like cotton and linen are ideal for a summer Christmas celebration, with colors such as pink, blue, beige, or white looking best. To achieve the best impact, mix and match darker chinos with a light blazer, or pair a patterned shirt with plain pants. Loafers, boat shoes, or brogues are a simple way to spruce up an outfit without being overdressed.
Christmas Outfits For The Winter
This season, look the part to celebrate a white Christmas in style. Depending on the dress code, you may effortlessly keep comfy while appearing stylish. To keep warm, wear a scarf and a wool overcoat, and for more formal events, wear a dress shirt and a pair of suit pants. If you're going to a casual party, pair a turtleneck with a jacket to appear festive without seeming too casual. Consider wearing blue, brown, or gray – you'll appear set for a night of celebration with this ensemble.
Christmas Party For Business Casual
A business casual party, with its unclear dress code, gives you some leeway in your outfit selections. You may wear a button-down shirt and suit without overdoing it if you define your style as more 'office'. If a two-piece isn't your style, don't be scared to wear chinos and a jacket instead. To complete the ensemble, add a pair of Oxford shoes, loafers, or brogues for a night of comfort and casual attitude.
Christmas Cocktail Party
Components in equal proportions, cocktail attire is casual and sophisticated, providing the ideal balance of modernity and formality. If you've got an invitation with this outfit asked, don't panic — a clean suit in muted grays, subtle cobalt, and dark navies will do the trick. You have some leeway with accessories here – a striking belt, tie, or pocket square will give some character to your ensemble.
Formal Christmas Party In Black Tie
If you've been invited to an event that requires a 'black tie' or 'formal' clothes, you should be prepared for a sophisticated evening. Traditionally, these occasions necessitate a dress shirt, tuxedo, and impeccable workmanship. Choose a peak lapel or shawl to compliment your shoulders, and go for darker colors to fit the occasion. A pocket square and bow tie are the finishing touches. Experiment with textiles such as silk and velvet to make you stand out in a crowd.
Christmas Semi-Formal Party
Don't freak out if the invitation to a Christmas party reads "semiformal." Once you have the correct items, this clean and fashionable dress code is simple to master. If your function is during the day, a suit in navy, brown, cream, light blue, or gray is an excellent choice. If you don't want to wear a full suit, opt for separates like a blazer and slacks, with a dress shirt beneath and dress shoes. A tie is not required here, allowing you to unwind a little while celebrating the holiday season.
Christmas Party That Isn't Too Formal
Have a great time at your Christmas party with your co-workers in a casual dress. It's the time of year when you can get away with wearing a T-shirt, jeans, and shoes without feeling overdressed. If you're going to a bar, wear a neat white button-down and a dark pair of jeans. Wear comfortable shoes or elegant sneakers to complete the appearance, and mix and match colors to add festive spirit.
Business owners if you want to expand your store's stock this festive season make sure to source fashionable wholesale women clothing and men's clothing from trusted private label clothing manufacturers USA.