The Benefits Of Private Label Clothing For Retail Stores
Friday August 2, 2019,
POSTED BY cm_admin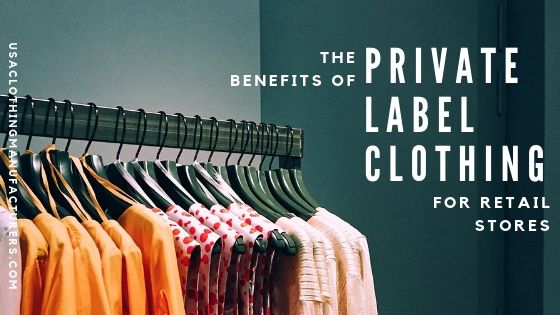 Private label has been here for quite some time and is here to stay. The strongest endorsement for the popularity of private label came through in 2016, with the trillion-dollar-behemoth, e-commerce company, Amazon launching fashion and clothing accessories under its own private labels. As times have passed the numbers have soared and today Amazon has close to a hundred private label brands in its own name. When the most valuable company on the face of the earth, headed by the richest person on earth in modern history is putting the weight behind this business model, there definitely must be some value to it.
That value has been appreciated by entrepreneurs, big and small, all over the world, resulting in the soaring growth of private label in all things imaginable, but mostly in the shopping essentials. Clothes are as essential to human needs as they get, and many private label clothing brands have been showing up on the horizon in rapid progression. There are very valid reasons for entrepreneurs to be invested in this model for slow, steady but sure success and the same have been enlisted underneath.
Helps Build Exclusivity
Retail businesses usually work with motto of sourcing cheap from kidswear manufacturers or any other kind, then adding a markup to make profits. With private label, you can do the same since offering the same quality at considerably cheaper prices is the hallmark of private label, but those are just the benefits on the surface. There are far more benefits to this business model which reaps rich dividends in the long run. It's an excellent way to build exclusivity and separate yourself from the existing players in the market. It's an excellent way to have your own marketing identity and improve business recall.
Builds Loyalty
Building customer loyalty is one of the cornerstones in establishing a sustainable and successful business in the long run. And private branding is the step in the right direction in achieving your goals. If you source quality, and pass it on to your consumers at cheaper prices, they are all likely to keep coming back from more, ensuring that you have a healthy percentage of repeat business.
Boosts Branding
When you sell products in your own name, you create a distinct individuality for your business, much different than other retail stores who source and sell the nationally popular brand. It may not work on the same scale as multinational corporations with multi-million-dollar advertising war chests, but for small businesses too, they remain equally effective. Private branding ensures that your logo will follow the products where ever they go after being sold, effectively increasing business recall and boosting brand awareness.
Increases Revenue
There are all chances to enjoy higher profit margins because you call all the shots. It will have to do majorly with your strategy, how meticulously you execute them and then most importantly, how well your goods fare or not in the market. You can always look for better sourcing options to minimize your cost of production and one of the best ways of doing so is finding the private label clothing wholesalers best suited to your interests. But for entrepreneurs who have managed to achieve moderate success, their revenues and accompany profit margins have been way higher than the times they were functioning as standalone brick-and-mortar retail stores, with no branding of their own.