Once-Banished Menswear Styles That That Are Here To Reign
Friday May 31, 2019,
POSTED BY cm_admin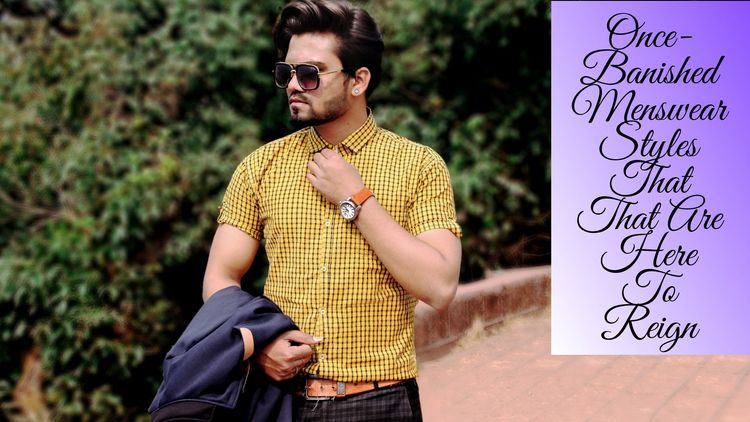 The fashion world is known for breaking rules. In fact you might also notice a contradictory situation here.
Sometimes you'll be asked to follow a specific trend to create a statement while on the other hand beauty gurus will ask you to break the barriers. This continuous process of accessibility has seen a banishment of few pieces that were once considered a taboo in the men's fashion scene. Be it due to cultural appropriation or simply for the fact that they were ugly , the pieces had faced a lot of ignorance over time. But 2018 has been a revolutionary year followed by it 2019 brings with it a fashion motto that speaks of inclusiveness . Thus, read on to know about the popular men's clothing pieces produced by USA clothing manufacturers that has come back with a bang!
Cargo trousers
Cargo pants were once buried deep into the fashion faux pass zone. But guess what ? The cargo aesthetic is back and how ! Not just men but women are also accepting the multi-pocket pant with great love. Cargo pants which were originally worn by hippies can also be incorporated into a smart wear for a day out in the city. The specialty of these pants is that you don't have to put too much effort into it.
Corduroy
Corduroy has struck an unlikely with the fashion lovers. This old-school favorite has graduated into a high-couture staple thanks to the popular designers as well as creative team. They keep brainstorming to come up with beautiful pieces that will render it worth the bulk investment in the millennium era. You can make corduroy your fall-winter go-to outfit for the thickness as well as appeal of the fabric.
Florals
Men's florals were a cringe worthy thing 10 years ago. But this style has made a comeback a few summers ago. The fact that this style is still going strong is good enough to derive that the men's floral's is not considered a taboo in the fashion pages anymore. From the cheeky sweet floral style to the widely acceptable gothic floral prints you can find a variety of such variants.
Baggy jeans
Get ready to hit a truckload of nostalgia here. The 70's favorite baggy jeans that were dismissed in the 90's and early 2000's has made a comeback. Now you can go back to the widely loved Beatles style wardrobe . For men who have a lean appearance the high-waisted baggy jeans definitely looks attractive on them. Make sure that you don't over layer the outfit and stick to minimal pieces for this style.
Fashion will always keep re-inventing itself over time. What you hated to wear 10 years ago might become your favorite now! Thus, retailers who want to include such clothing in their store can get in touch with one of the popular corduroy & flannel clothing manufacturer. All you have to do is order the required pieces by stating the bulk needs to the customer care team.