Must-have Tees For Ladies
Wednesday September 1, 2021,
POSTED BY cm_admin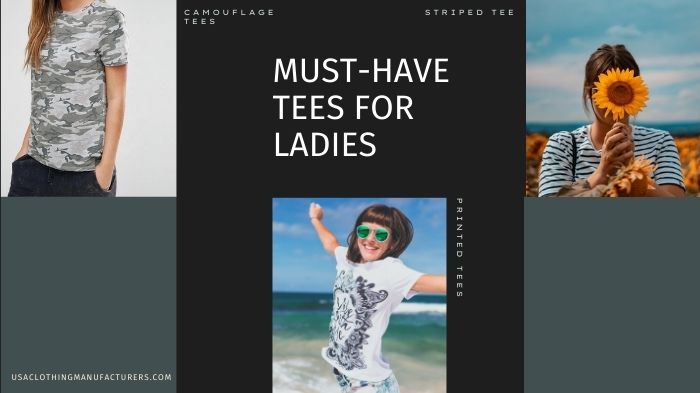 Tees for ladies are known to be the comfiest attire for casual wear. A tee is truly evergreen clothing that you can't simply imagine without it. It is appropriate for a casual look. Moreover, several young ladies like to wear various kinds of tees for formal wear. You can style a tee with anything. If you wear the proper type of outfit in the proper way, it will work well for you.
There are various kinds of wholesale womens t shirts that come in many patterns and varieties. You can also style it with a denim jacket or overcoat. You can find different kinds of tees with no trouble offline and online. Nevertheless, it is equally significant to pick the proper kind of color and fabric that go well with your body type. If you are looking for fresh styles of tees for ladies then scroll down beneath.
Here are the different kinds of tees for ladies –
Camouflage Tees For A Laid-Back Day
Tees for ladies have become a part of their closet. Get yourself a camouflage tee for women which is an ideal substitute for a get-together as well. It is also known as a military tee. This print can be found in ladies' shirts too. Sporting a camouflage t-shirt throughout your holidays gives you a funky and cool feel.
Striped Tee For Ladies
Striped tee can't go off style. This is another iconic tee for ladies that come in a range of shades. It comes with full or half sleeves, both give a cool element when teamed with skirts or jeans. Black stripe tee or white both look excellent on a casual day. You might add a jean jacket to it too for a chic feel.
Printed Tees For A Cool Look
A printed tee is a must-have outfit in every lady's wardrobe. A black printed tee looks fun with blue ripped jeans. It looks wonderful for a movie day or casual shopping. Tie a hair bun for a neat and clean look. Put on heels or a pair of sneakers as per your comfort. Also do not forget to sport goggles to walk in style.
Business owners if you are interested in adding stylish tops for ladies to your store, get in touch with popular tops manufacturers in the industry. Browse through the collection they have to offer and single out the pieces you want to bulk order to the support team.