Men's Winter Sartorial Wear Guide
Saturday June 13, 2020,
POSTED BY cm_admin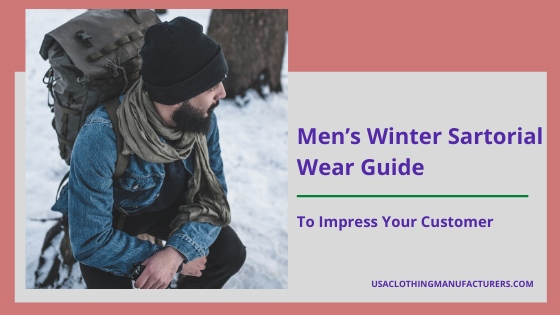 With the dawn of every season, what you wear is incredibly important. Winter is a beautiful time of the year, albeit chilly. When it comes to dressing for the season, certain items are considered absolute must-haves, so you can stay warm and look incredibly stylish. Manufacturer have designed men's wholesale clothing for winter, that retail customers can have a look at. Therefore, let's read on to find out about the trendy apparel perfect for the season.
Leather Jacket
A leather jacket is one of the most versatile pieces of clothing that every man should have in his wardrobe. There are so many ways you can wear it with almost anything. When temperature drops, adorn a hoodie or roll neck jumper, or keep it casual with a t-shirt underneath. This is a classic and timeless look that'll look fantastic on anyone!
Pea Coat
The double-breasted overcoat is essential for any man during the colder months. Whether you're in the office or on a date, the peat coat is a classic option for a myriad of occasions. Opt for a navy jacket with jeans for a smart casual look, or elevate your outfit in a suit, paired with light hued outerwear.
Black Jeans
Sometimes you can't go wrong with the basics. Although plain, black jeans are a staple that every wardrobe should feature. No matter if your style is rebellious, boho or business, you can rock this dark denim with ease. Brighten up your outfit with a bold suit jacket, or keep it muted with a leather jacket, scarf and a slick pair of boots.
A Wool Overcoat
When the temperature drops, take out a warm and stylish wool overcoat. Available in an array of colors and lengths, this coat is a great way to dress up an outfit and feel snug at the same time. To match the rest of your wardrobe, stick to bold colors such as navy, charcoal or camel, as they flatter a myriad of pieces and offer a timeless appeal.
Denim Jacket
For the guy who's a fan of looking casual and fresh, the denim jacket is perfect for you. Although it may not be appropriate for sub-zero weather conditions, it's certainly an excellent piece of clothing to wear when it starts to get a little chilly outside. Adaptable and timeless, this outerwear makes a great layer to finish off an outfit.
Retailers who are in the search for trendy winter apparel for the customers can contact one of the popular clothing manufacturers. The supplier has curated a collection that boast of style and comfort. You can even avail cool discounts on the wholesale investment, hence hurry!