Men's Winter Layers For The Perfect Chic Attire
Sunday September 11, 2022,
POSTED BY cm_admin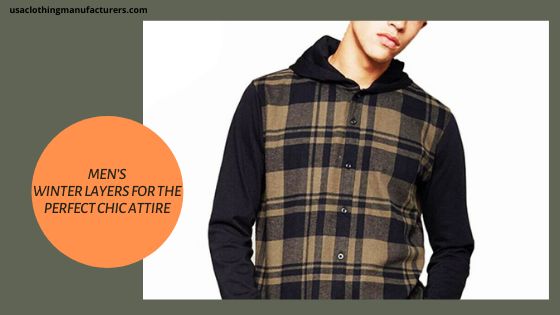 Winter is definitely one of the most beautiful times of the year. When it comes to dressing for the weather, certain items are considered absolute must-haves, so you can stay warm and look incredibly stylish.
To help you find the perfect stylish ensembles, one of the popular apparel manufacturers in USA have curated a unique collection of clothing you can have a look at. Hence, please read on the blog below to know more.
Selvedge Denim Jeans
Nothing says badass like a pair of rugged jeans. The denser and firmer denim is a great way to put a casual twist on an outfit while remaining sophisticated and well-kept. Selvedge is considered one of the higher-quality pairs of denim pants, so it's worth wearing, no matter where you're headed.
Denim Jacket
For the guy who's a fan of looking casual and fresh, the denim jacket is perfect for you. Although it may not be appropriate for sub-zero weather conditions, it's certainly an excellent piece of clothing to wear when it starts to get a little chilly outside.
Wool Blazer
For the days where you're blending casual with sophisticated, the wool blazer is for you. Ideally worn in semi-formal occasions, this jacket is a winter essential for every wardrobe. Pair this with a button-down shirt for fancier events or a roll neck for those chilly nights. When the temperature starts to warm up again, you can keep this classic piece to wear throughout the entire year!
Trench Coat
For the ultimate tailored look, opt for the classic trench coat. This layer is a great way to polish off a stylish outfit, and it's sure to keep you warm and dry when it's pouring outside. These styles come in an array of neutral shades, so they are easy to pair with staple pieces, such as a button-down shirt or turtleneck.
Wool Suit
Much like the wool blazer, this suit is a great option to rock any time of the year. The soft touch of the ensemble is heavy enough to keep you feeling warm during the chilly months but lightweight enough to keep you breathing. Opt for a smart casual look by pairing this set with a t-shirt or a roll neck, or keep it looking fresh and formal in a classic button-down and tie.
Do you want to become one of the popular men's wholesale clothing distributors in the industry? Checkout the vast assemblage of trendy clothing pieces that the supplier has in store. Browse through the ever expanding collection and drop a mail stating the bulk needs to the help team.