Guide For Fashion Lovers To Pull Off The Pride-Themed Style Effortlessly!
Friday June 25, 2021,
POSTED BY cm_admin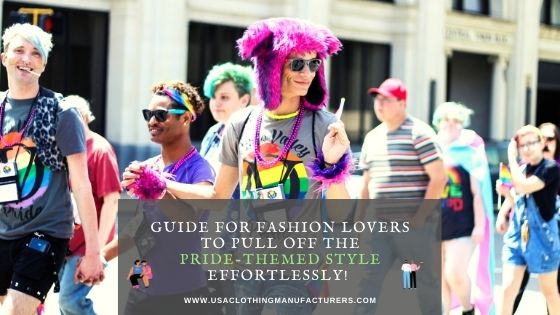 Since June is here, it's time you make room for pride-inspired apparel in your wardrobe. While we encourage people to show off their LGBTQ+ pride every day of the year, the month of June is especially perfect for wearing the vibrant pop of colors that a rainbow reflects. If you need some inspiration to show off your incredible style, then the rainbow-themed outfit ideas given below will definitely help you take the leap.
Not just reputed manufacturers, but top retail brands like Victoria's Secret has refined the concept of inclusivity by hiring transgender model Valentina Sampaio as one of their angels. Top actress and players like Priyanka Chopra and Megan Rapinoe have also collaborated with the lingerie giant to represent the marginalized women.
Therefore, if you want to feel inspired and spread the message of inclusive love, we have the best collection of outfits that will help you make the statement. Happy pride yall!
Oversized Trucker Jacket
How's this for a statement piece for Pride? The stylish trucker jacket showcases the colors of the transgender pride flag and is designed in a gorgeous tie-dye print too. The oversized aesthetic is perfect for the 2021 style and can be worn with your favorite mom jeans or a pair of low-key neutral leggings and dad sneakers to complete the look. A definite comfortable option for the summer hiking trips as well.
Colorful Leather Jacket
If you think leather is only for the emo-heads then you are wrong. If you love to dress up in premium outerwear then investing in colorful leather jackets will be a cool break from the classic black variants. Style it with your favorite tanks and pants to show off the rugged statement style.
Vibgyor Sweater Tank
Rainbow is obviously a must have for the Pride style to stand out. Therefore, this sweater tank top will be your next essential item for your closet this summer season. This unisex vest is a must have if you are looking for the Gen-Z must have cropped vests that has become popular thanks to YouTube sensations like Emma Chamberlain who are popular advocates of LGBTQ+ rights.
Love Graphic Tee
This super-cute rainbow-themed graphic tee is cute and cozy. Women who like effortless and minimalist style can show off their love for the community by donning this love graphic tee. A must have for the warm season as you can wear it for the brunches, errands or at home yoga sessions too!
Mesh Turtleneck
Does a mesh-lined turtleneck sweater sound great? Guess what- for friends and allies in the community – this sweater is a perfect wardrobe addition if you are looking for a chic and trendy outerwear that can be worn as it is.
Black Neon Camisole
For Pride Month, one of the top-rated manufacturers, has designed an exclusive collection of sexy black camisoles which includes an adorable rainbow striped cami! These are designed in the silkiest of silk or satin fabrics and oozes oomph and style.
There's more to the collection though. If you are looking forward to collaborating with the best apparel manufacturer in USA, then don't hesitate to contact the customer care team by dropping mail and requesting for the wholesale apparel details. Business owners/retailers/private label business owners can even score cool discounts on the bulk investment.