Beat The Summer Heat With These Clothing Tips
Wednesday April 8, 2020,
POSTED BY cm_admin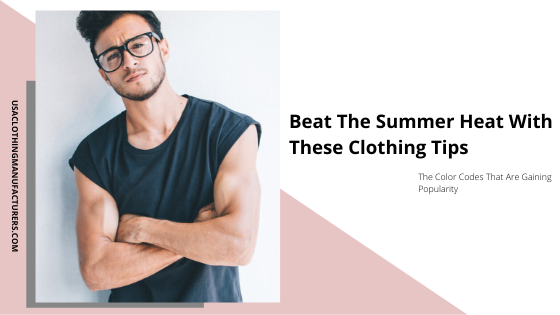 Summer is the time for dumping layers and putting on whatever you desire. Compared to cooler months, not needing to prepare ahead for the chances of snow, cold winds or rain is the attraction of this time of the year. But you can also get ferociously uncomfortable if you are not set for the summer heat and this 2020 has already shown the temperature soaring.
Instead of running, looking for shade, take a look at some of the clothing ideas to beat the heat this summer.
Bring Out That Tank Top
Picking cuts that usually let sweat and heat transfer make lots of sense during summer. This takes us to the tank top section, which is one of the first things we usually go for in the wardrobe the moment the forecast spears through every year and the one we talk about during winter as we scroll down our summer festival pictures. A loose fit and cut for a tank top are perfect to allow drifts of air pass through. If you go for a brighter color, then pick something in cotton material. This will make you feel comfortable regardless of how insistently the mercury rises.
Put On Sports Gear
Wholesale sportswear USA has seen a rise in their sale during the summer months compared to the rest of the year. Workout gears are a brilliant choice for the hotter months, even if you are not thinking about going for a half marathon. Athleisure is created with material that soaks in sweat and let heat to pass through the interlace, keeping you breezy in the process. The silhouettes of most sports items are also created to let the open movement of your body, which increases the comfort level and avert chafing. While you can't precisely walk into a corporate meeting in track pants, you can certainly accelerate your athleisure game with the perfect sportswear items.
Go For Chambray
Chambray or denim shirt is an underestimated summer piece of clothing due to its ostensibly heavy material. While they are also comfy to put on during the cooler months, chambray has a flimsy weave than cotton's twill design and so has enhanced cooling features. Whether you are looking for a shirt with long or short sleeves, trousers or shorts, chambray comes in many kinds and price points. Hence it is a fine investment not only for flaunting your style but also for the sake of practicality in the scorching heat.
Business owners who want to incorporate summer styled wholesale clothing USA in their store can get in touch with one of the popular private label clothing manufacturers. All you need to do is go through their large collection of summer wear, pick the required pieces and state your bulk requirement to their support team.