6 Cute Ways To Wear Flannel Shirts For Women This Year
Thursday June 2, 2022,
POSTED BY cm_admin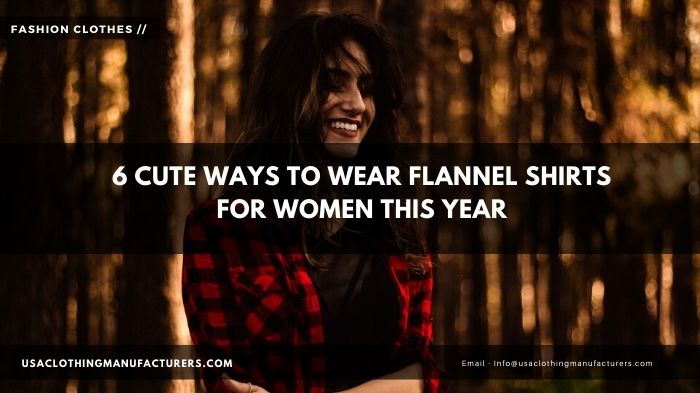 Are flannel shirts your go-to choice for outerwear? Well, most women in modern times are fond of wearing these plaid shirts to make their casual and street outfits a notch trendier. Here, we've compiled some of the latest urban flannel shirt styling trends to inspire you to rock these cozy shirts like a fashion queen! If you're a private label business owner, willing to procure flannel shirts, make sure to connect with the best among private label clothing manufacturers USA who supplies a wide collection of high-quality wholesale flannel shirts for women. Such a fashionwear supplier can help you to purchase in bulk fashionable flannel shirts in eye-catching color combos and iconic plaid patterns to add variety to your store's womenswear collection.
1) For A Casual Outing
A red flannel shirt that displays a unique combination of red and black checks is a happening choice to wear for a day-out plan with friends. You can wear such a soft and comfy red-and-black flannel shirt unbuttoned over your white tee and pair this with light blue jeans to look casually chic and trendy!
2) In Summer
You can wear a light and comfortable flannel shirt with your shorts or skirt during hot summers. Pair your flannel shirt in striking red and blue color combination with a black pencil skirt to appear smoking hot! Or, you can pair a flannel shirt depicting vibrant green and blue checks with your denim shorts and white sneakers to look boho-chic.
3) In Winter
Do wear a thick flannel shirt in winter to protect yourself from the cold. Choose a maroon flannel shirt to team with gray hoodie, navy jacket and black jeans. Finish this snug and ultra-stylish winter ensemble by putting on a pair of black boots.
4) For Work
As red flannel shirts are very popular in women's apparel, you can select a flannel shirt in a tone close to red such as one with black and white patterns or one in scarlet, pink or orange. You can pair any of these two shirt colors with dark jeans, keeping the shirt tucked in and wearing a belt to make your office outfit smart and sophisticated.
5) For College
Blue flannel shirts are a big hit among student female wearers. Choose a blue flannel shirt fused with gray color, black hue or any other contrasting shade. Wear such a premium blue plaid shirt with black denim to pull off a sassy and youthful look that echoes college-girl vibes!
6) Around Your Waist
It may sound old-school but wrapping a flannel shirt around your waist is the most captivating way to earn the attention of others. Tie your plaid shirt projecting yellow and black checks around your waist with black blouse and denim shorts as your main outfit. This is a modern and fresh way to carry your flannel shirts innovatively.
As a retailer, eager to curate flannel shirts for women, you should collaborate with one of the top-rated custom clothing manufacturers with an extensive flannel shirts collection. The flannel shirts catalog of such a fashion apparel supplier will enable you to stock up voguish flannel shirts for ladies that highlight interesting color mixes, stunning designs and exquisite plaid prints.