Top 4 Reasons Men Need To Wear Proper Fitness Clothing To The Gym
Wednesday June 22, 2022,
POSTED BY cm_admin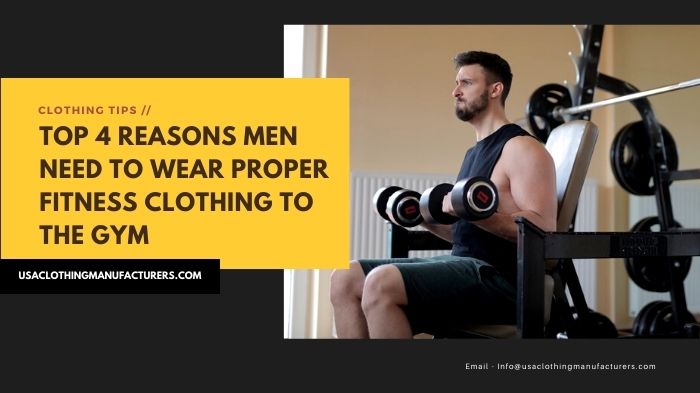 When it comes to working out like a pro, the activewear you sport plays a vital role in determining your performance and comfort. Here, we've highlighted some of the main reasons why you should make sure to wear functional fitness apparel to the gym to workout conveniently and efficiently.
1) Improves Your Level Of Comfort
As a consistent gym athlete, you shouldn't neglect wearing suitable fitnesswear during your workout rounds. You must wear breathable dri-fit tees, high-tech compression clothing, expandable track pants and other effective workout wear in proper combination to stay cool and comfortable while pumping up your muscles. This kind of top-grade workout wear made with moisture-wicking materials are an ideal choice to keep yourself sweat-free and dry for ensuring optimum workout comfort and relaxed feel.
2) Saves You From Injuries
Working out at the gym means that you have to deal with various equipments. Whether you're working your legs or your chest, you need to be dressed in advanced fitness clothes from top to bottom to safeguard yourself from discomfort, hurts or injury. High-end compression outfits, dri-fit spandex sportswear or other scientifically crafted activewear can increase blood circulation as well as oxygen flow to keep your energy levels high and aid in quicker recovery of strained muscles during exhaustive exercises.
3) Prevents You From Feeling Cramped
Wearing dynamic workout clothes that are constructed with lightweight fabric will feel like your second skin so that you can concentrate on your workout solely without experiencing any irritation or uneasiness. Whether it's your tees, tanks, shorts, fitness pants, tracksuits or other gym attire, you need to select those with proper fitting and intelligent construction so that those materials don't rub against your skin or cause itchiness.
Also Read : How To Choose Proper Athletic Wear For Workout?
4) Boosts Your Gym Performance
Do you know that what you wear during exercise can affect your fitness goals in a major way? Say, you get sweat-soaked during your workout. Then, it's likely you won't be able to carry out the rest of your workout with the same vigor and enthu as before. Thus, it's incredibly important that you wear top-quality activewear that wicks sweat and promotes ventilation to keep you fresh, comfortable and energetic at the gym. As long as you stay focussed and stress-free due to your workout apparel functioning supremely to shield you from discomforts, you're sure to execute your workouts with greater motivation and efficiency to achieve best results.
As a retailer, willing to upgrade your men's activewear stock, you must connect with a top-rated clothing manufacturer supplying a vast collection of wholesale men clothes, including trendy fitnesswear for guys. Such a connection will help you purchase in bulk dapper fitness apparel that scores high on functionality and breathability.