What Your Subject Major Says About Your Style?
Friday April 5, 2019,
POSTED BY cm_admin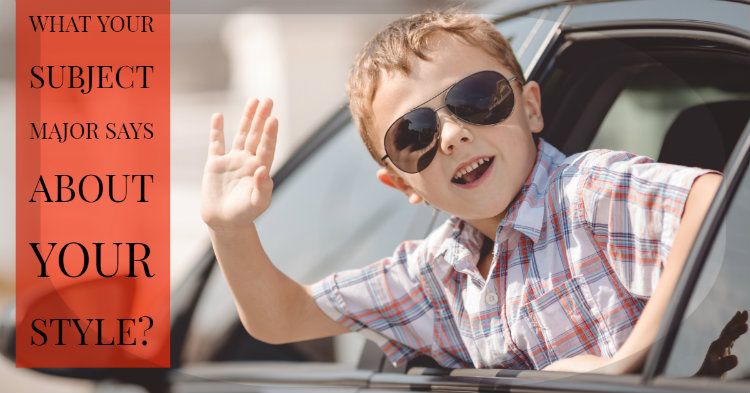 It is easy to categorize people by their subject majors just as it is to categorize animals by their species. We all have a fascination and skill set that is especially requited to study a specific subject. Whether you're blessed with logical ability or intuitive spirits chances are that this will reflect on the majors you take up in college. The four years worth of time spent on a specific subject has a lot of effect on our mental processes as well. You'd be surprised to know that our fashion choices are also highly influenced by our exposure knowledge derived from the same. Hence, as bizarre it may sound your5 subject major actually affects your style. Hence, find out about the various style statements that has become anonymous to subjects in college. Meanwhile look through the clothing collection supplied by the USA clothes manufacturers for future bulk orders.
Film studies
Red eyes from the lack of sleep because they stayed up late watching the screenplay of pulp fiction. Film students are known for their nonchalant outlook towards fashion. They are mostly known for carrying pieces that are in extremes. Sometimes you'll find them wearing neutral toned pieces while in other instances there's a chaotic jumble of prints. Basically its all derivative of what goes on in their minds.
Business/Economics
The economics girls are extremely put-together whereas the guys are not. You can really blame it on the study/peer pressure though. Somewhat the dissimilarity is striking but the performance is equally good. The girls are in, fact found wearing pencil skirts and shirts that somewhat becomes a dramatic version of the great CEO's they're going to be in the future. Unlike boys who pretty much stick to hoodies and ripped jeans as it happens to be casual uniform for the college duration.
English
The vibe is wannabe indie but can't escape preppy. From classic statement tees to skinny denims and vintage glasses in case of guys, to girly tunic top s with leggings and statement sneakers in case of girls. English students know how to blend their individuality with their quirky clothing style. The fun part is they all have a fashion approach that borders on art hoe & cosmopolitan chic.
Law
Dressed for the courtroom only five years early. The law students are known for their lack of sense when it comes to creating genuine trendy outfits. No offence here , they love harboring around the earthy tones as it provides a sense of gravitas to their personality.
Engineering
Tired, practical, sturdy, disheveled, smart and tired. The engineering students slog pretty much for 24*7 and four long years. Blame it on their subject they seldom get the time to wear anything trendy let alone create a statement. Irrespective of the gender, the budding engineers are known to stick top basic clothing and sensible colors. From polo shirts to printed t-shirts and plaids in case of girls.
Thus, retailers who want to cater to a large base of customer irrespective of their majors can get in touch with a popular women's& kids clothes manufacturers. All you need to do is browse through the unique collection of clothing that the manufacturer has in store.